HOLY MONASTERY OF PANAGIA IN UPPER XENIA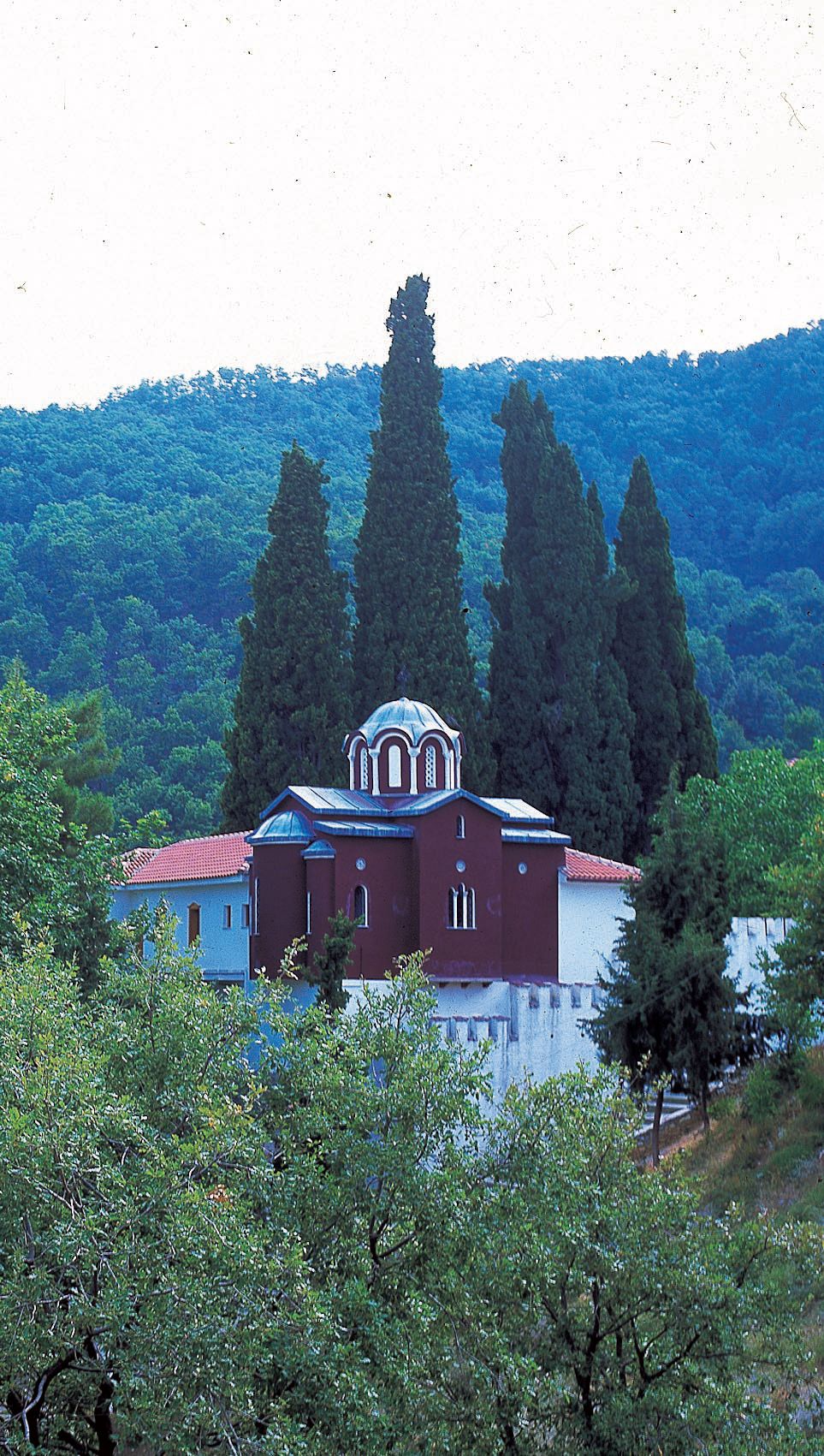 The Monastery of Panagia in Upper Xenia was founded in the late 10th century when an icon of the Dormition of the Theotokos was found among ivy (in Greek "kissos"), after which it was named "Monastery of Kissiotisa" until the 1930s, according to the seals of the Monastery.
A particular blessing for the first monks was the arrival of the icon Panagia of Xenia which reached the Monastery by sea during the iconoclastic period. It appears that very early the Monastery flourished and was given the title "Royal, Patriarchal Monastery, under the Patriarchs jurisdiction (Stavropegiac)". At the beginning of the 13th century Latin crusaders slaughtered around 800 monks of the Monastery who refused to submit to papal authority. During the Ottoman occupation, the Monastery was very active, and according to the tradition they had a "secret school". Around the 1600s the new main church (katholikon) was built; the old one of the 10th century collapsed during the earthquake of 1554. The Church iconography was painted in 1663 and by 1729 the Church was enriched with gilded, wood-carven masterpieces. Thief raids and severe winters forced the monks to build a small dependency named after Saint Nicholas between the settlements of Sourpi and Vryneni where they settled down permanently in 1878, completely abandoning Upper Xenia. With the establishment of the first Greek State, the assets of the Monastery were confiscated. During World War II, the Italians set fire to the Monastery and only the Katholikon was miraculously saved. In 1968 a new brotherhood moved in. The present-day growth of the Monastery began in 1986 with another new brotherhood, governed by Archimandrite Nektarios Dovas, current Metropolitan of Corfu. He accomplished a remarkable work of renovation, reconstruction, organization of dependencies, and welcoming new monks, restoring the coenobitic system. The current abbot of the Monastery is Archimandrite Nektarios Yfantidis and the brotherhood numbers 3 monks.
Γρήγορη Αναζήτηση Ιερού Ναού